For Troubled Teens, Overcoming Sex Addiction is Like Climbing a Mountain. Literally.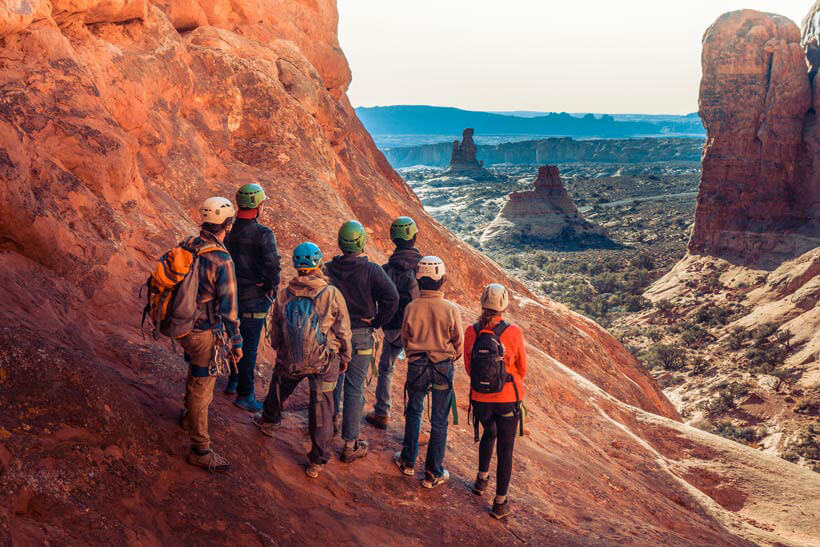 If your teenage son is battling an addiction to sex, porn, or masturbation, then you know what it means to be confronted with life-altering challenges. You and your son may both feel lost. The last thing you might think of as useful would be to create more challenges for your son. However, at Oxbow Academy (OA), challenging teens who struggle with sex addiction is exactly what we do. These challenges come in the form of adventures out in the Utah desert. Michael Tilden, a Certified Therapeutic Recreation Specialist and Masters degree certified therapist, supervises the High Adventure group at OA. Michael works directly with the boys' individual therapists to create challenges that instill hope in teens. Before coming to OA, many of these teens and their and families believed that there is little to no hope left. However, on these therapeutically guided adventures, dozens of young men from OA find the strength they need to overcome their addictions.
Sharing Near-Life Experiences
Recently, Michael took a group of boys canyoneering in Moab, Utah. "That is where you repel through the slot canyons. It requires a high level of fitness, and a high level of mental fortitude because once you get into the canyon the way out is forward."

During the trip, the group of boys had a great time. They had worked hard to develop the skills they needed and were able to navigate the slot canyons successfully. When it was time for the boys to return to Oxbow, one of the boys was emotional and crying. Michael asked the boy why he was crying.

"He said, 'This is the first time that I have authentically felt alive,'" Michael said. "It was the first time that he had to push himself."

The adventure in Moab was the first time that the young man had connected to himself, to others, and to nature in a meaningful way. The young man said that reason that he was crying was that he had wasted so much time, doing artificial things, such as playing Xbox or looking at porn. These things gave him a false sense of connection. What that young man experienced in the desert of Moab was something real. It allowed him to be vulnerable enough in a safe setting to take the risk of real connection The experience transformed him. After finding a real connection, the young man was in a better position to resist counterfeit connections.
Finding Adventure and Motivation for Change
While the young men in the High Adventure group have a good time, the group is about more than an adventure for its own sake. When you are in the wilderness, you experience vulnerability. This vulnerability makes you more open to change. The experiences that the boys have in the deserts of Utah create a bond with the group and with their therapist.

You might imagine that climbing the mountain or navigating a slot canyon is hard. You would be right.

"But those hard, difficult things are the things that provide us the most reward and engagement," said Michael. "I call it near-life experiences as opposed to near-death experiences."

When your son shares in these near-life experiences, he will learn that he can do things that are hard. Climbing a mountain will show your son that he has the strength and courage that he needs to confront his addictions, mental health challenges, and other unhealthy behaviors. It will help him develop true grit. This grit helps instill a sense of self accomplishment, confidence and ability.

The memories of these experiences will stay with your son long after he returns home. He may also come home with new hobbies and new appetite to take on challenges and adventures. The skills he learns will allow him to conquer other emotional and social "mountains to climb" that face many teenagers these days. At the very least, the experiences that he gains during the High Adventure group will show him that he can get things done, even when they are hard.